Millphone Holder – Miller Universal 1200 Degrees Rotation Car Phone Holder
Last Minute
- Sale end in
00h 07m 36s
Limited stock! 7408 people are viewing this and 5246 purchased it.
Description
This phone holder features a strong, anti-slip clip to securely attach your device to the dashboard, sun visor, or even front mirror.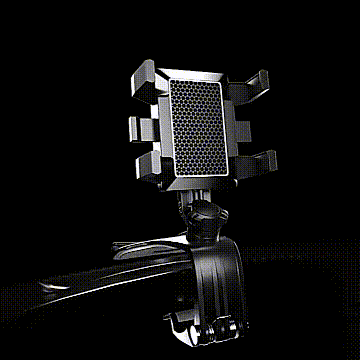 Simply slide to move to the ideal position, and adjust your viewing angle without limitation – the ball joint offers 360° rotation and the tilting axis offers 180° angle tilting.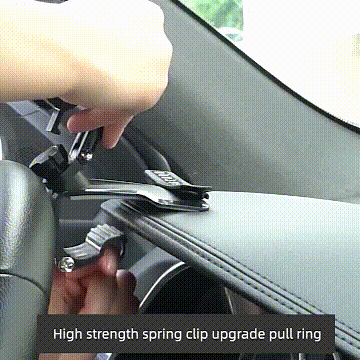 Let's enjoy a boundless horizon while driving on the road.
SAFE DRIVING
✅ Adopts HUD (Head-up Display) simulating design which firmly holds your device within driving viewpoint to prevent refocusing
✅ Keeping your eyes on the road for safe driving during phone/video calling, GPS navigating, music playing, or phone charging.

CLIP IT ANYWHERE
✅ Not only for the dashboard, but you can also clip it on the sun visor or even the front mirror.
360° ADJUSTABLE
✅ Ball-joint design allows all-direction rotation for both landscape & portrait orientation.
✅ Also, the foldable axis offers 180° tilting for optimal viewing angle. Enjoy a boundless horizon while driving on the road.

SECURE CLIPPING
✅ Made of anti-slip silicone pad & clip with 4 rounded clamps to tightly hold the device with the shockproof feature, providing a stable viewing.
✅ Also no more sliding or falling off even taking a sharp turn, sudden stop, or acceleration.

EASY TO CLIP/ REMOVE
✅ Features a strong clip that securely attaches to the dashboard / any flat surface.
✅ Simply slide to move to the ideal position, or even remove it without leaving residue/ mark.

DURABLE
✅ Engineered with stainless steel springs to increase the flexibility of the clip. Not easy to break even greatly bending.
ANTI-SCRATCHING
✅ A soft pad perfectly protects your phone and dashboard from damaging and scratching.

UNIVERSAL
✅ Designed with an adjustable clamp to snugly hold your device.
✅ Highly compatible with all smartphones up to 7 inches even with a thick case.
✅ Fits all dashboard up to 3 inches.
FEATURE
1.Car phone holder for placing your phone securely while driving.
2. 360-degree rotating design, you can adjust it to any angle you want
3. You can switch between horizontal and vertical screens.
4. One-hand control, easy to pick up and put back your phone with one hand.
5. Adapt to multiple scenes, easy to follow the home, office, and car drama.

SPECIFICATIONS:
Colour: Black
Material: ABS
Size: – Upgraded version: 12.5*10*11.3cm / 4.9*3.9*4.4 inches
           – Regular version: 11*9*9.8cm / 4.3*3.5*3.8 inches
Packing list: 1*Car holder

---
Reviews
---
I bought two different cell holders, and this is much the better. Very well-designed, solid build. Excellent value.
---
Angelika Scholz
Verified Buyer
Works for visor and specific dashes with prominent shelf
---
Ryan Moore
Verified Buyer
So far so good,This is the best car phone holder I've purchased for my car. I live in the desert area, the suction cup mount often melts when the weather is hot. The air vent phone car holder is very suit me. The clip can be fixed on the air outlet of the air conditioner well and will not block the air outlet . Seller It is very intimate with 2 clips, the 2 clips are different, the 3-level clip are more convenient , and the twist lock clip is tighter. I like this phone mount very much. You can buy such a good quality product at this price, which is great !
---
Oleg Ghincul
Verified Buyer
Very nice product, I'm waiting to use it in my car
---
Diana Trier
Verified Buyer
I like it, everything matches the description. Seller sent the parcel quickly, I am satisfied. I recommend the phone to everyone. Thanks.
---
Diana Trier
Verified Buyer
Good quality product, fast shipping and good price. Very pleased.
---
Valter Cappella
Verified Buyer
Fits in my adjustable cup holder which I didn't think was possible! Keeps my phone in place, bulky phone case and all. I have a Samsung note 10 that is large in size so I'm very impressed how well it cradles my phone and stays in place
---
Ladislav Straka
Verified Buyer
I bought it to adapt my automatic phone holder/charger base which broke my air vent and this was PERFECT. The ball joint connection makes it versatile enough to use on several phone holders. The cup holder fitting expanded to exactly the proportions i needed to ensure a snug fit. I am buying more my other vehicles and as gifts
---
Mohammed Rahman
Verified Buyer
Quality, Durability, Holding , Mount , Ease of use
---
Elena Belgova (Valkova)
Verified Buyer
Very useful. Highly recommend.
---
Ararat Chilingaryan
Verified Buyer
Ionut Prodan
Verified Buyer
Very happy with this item, it is probably the best mobile phone holder on the market, thank you
---
Joom shopper
Verified Buyer
That good product for hold my mobile
---
Very useful. Highly recommend.
---
Kirill Ponomarev
Verified Buyer
For those who want their phone right on their dashboard above their steering wheel, this is the perfect phone holder. the clip that attaches the holder to your dashboard felt extremely secure and there is a tightening screw so you can adjust to the desired tightness which is great as the item ages over time. Very pleased with my purchas
---
This iPhone holder is really easy to use. You can easily change it from vertical to horizontal views and holds the phone really tight. The clip has a strong spring to ensure it will stay in place
---
Igor Cibotaru
Verified Buyer
Holds up well on rough roads, over rough railroad crossings, and under severe driving conditions.
---
This is the best product ever. I attached the clip to the visor. Holds the phone very securely. It doesn't shimmy, shake or twist around while driving. I highly recommend this product.
---
Joseph Johan Manicaro
Verified Buyer
Love this phone holder it holds my iPhone just perfect and I don't have to worry about my phone falling or sliding around in the car anymore, the suction power is great and very easy to insta
---
Mazlum Tasocak
Verified Buyer
A good gadget for the car. It holds well and if you tighten the screws with a screwdriver it will stay put ad withstand the weight of heavy phones. It sits right on the dashboard, but it is flexible so you can move it in any direction
---
Mazlum Tasocak
Verified Buyer
This product left a very deep impression on me. Not only is it very customizable in terms of positioning, but the sticky gel suction cup is more versatile than I expected. The adhesion to the windshield is very good. At this price, this is a must buy in my opinion
---
Edmond Rusta
Verified Buyer
This was a great purchase for me! My iPhone fits in it well and it helps for looking at the gps on trips without having to pick up your phone in your hand
---
Bernd Schlüter
Verified Buyer
This has no suction cup, but a clip so that it can attach to the grooves of the dashboard. Works well with an iPhone 12 and 12+ with otter box cases! Love that this doesn't have suction cups to worry about the heat! Easily adjustable, too!
---
Tatyana Spivak
Verified Buyer
The dash phone holder came just in time for our trip to Alaska! The placement of the phone holder allows for us to not have to search for where at least one of the phones. We enjoy the hands-free capabilities it offers as well! It is sturdy and super secure. It comes with an Allen iron which allows foe the swivel head to be tightened to ones personal satisfaction. We have it located on top of the dash where the GPS is coated but it can easily be mounted right above the steering dash! There's no suction or adhesion but a GREAT GRIPPER!!! Easy to install just open the mouth and clap it down! I would suggest anyone try this time!
---
Tatyana Spivak
Verified Buyer
Sturdy and easy to install.
---
I bought two different cell holders, and this is much the better. Very well-designed, solid build. Excellent value.
---
Stephen the Tac0
Verified Buyer
This is a good idea in a cradle. Keeps your phone out of the way of a vent. Dont have to worry about a suction cup coming loose from a window. The finger ring to operate the springclip is a great addition to adjust the cradle. Also that the cradle itself is spring-loaded is better than the gear driven cradel that other holders have
---
Ararat Chilingaryan
Verified Buyer
1
2
3
4
5
6
7
8
9
10
Show More
Thanks for your review! Your review will be verified by the administrator!
Shipping
& Returns
Covid 19 customer and shipping updates
We stand by our product quality. If you are not pleased with your purchase, we offer a 7-day quality guarantee on all products. If you have any additional questions or would like to request return, refund, exchange, feel free to contact us at [email protected].
Learn more about our return, refund, and exchange policies here.
Order processing & shipping time within 3-5 days, and delivery time within 14-21 business days from shipping date. During high volume periods, the processing time may take an additional 2-4 business days . Learn more about shipping FAQs here.
On average, the shipping fee is $4.95 per unit. However, shipping fee may vary due to promotional activities. Please visit the checkout page to obtain your final shipping charges.
One of the basic reasons why we incorporated Happy Shop is to provide the trendiest, best quality products to our customers with the lowest possible prices. We have a very diverse product selection that can appeal to every customer's need.